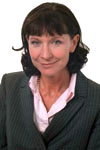 Carol Alexander is Professor of Risk Management and Director of Research at the ISMA Centre. Prior to this post, she held positions in both academia and financial institutions at: Gemente Universiteit in Amsterdam; UBS Phillips and Drew; The University of Sussex; Algorithmics Inc. and Nikko Global Holdings. Carol has a PhD in Algebraic Number Theory and a first class BSc in Mathematics with Experimental Psychology from Sussex University and an MSc in Econometrics and Mathematical Economics from the London School of Economics.
From 1986 – 1998 she lectured in Mathematics and Economics for 13 years at Sussex University. From 1996 to 1998 she also worked part-time in the industry, as Academic Director of Algorithmics, a large international enterprise-wide risk management software company. Following this, she was Director of Nikko Global Holdings before returning to Academia in 1999. In addition to her Professorship at the ISMA centre, she is Honorary Professor at the Academy of Economic Studies in Bucharest, Romania and is Chair of the Academic Advisory Council of the Professional International Risk Management Association
Carol has published numerous research papers in top international academic and professional journals. Her current research interests are in quantitative strategies for equity portfolio management, Bayesian models for operational risk capital assessment and risk control, and in normal mixture approaches to: local and uncertainty volatility models, GARCH and orthogonal factor models, and multi-factor option pricing model calibration.
She is best known for having authored and edited over 14 books books on risk management. Her best-selling text book Market Models: A Practitioners Guide to Data Analysis (Wileys, September 2001) will in 2006 be expanded to three books: focussing on Option Pricing; Risk Management and Financial Econometrics.
Since 1990 Carol's consultancy work has focussed on the design of software for risk management, portfolio optimization and trading. With nearly 15 years of experience in this area her experience includes designing: the first generation GARCH models, Bayesian 'Advanced Measurement Approaches' to operational risk capital assessment, cointegration equity portfolio management models, volatility trading models and much else.